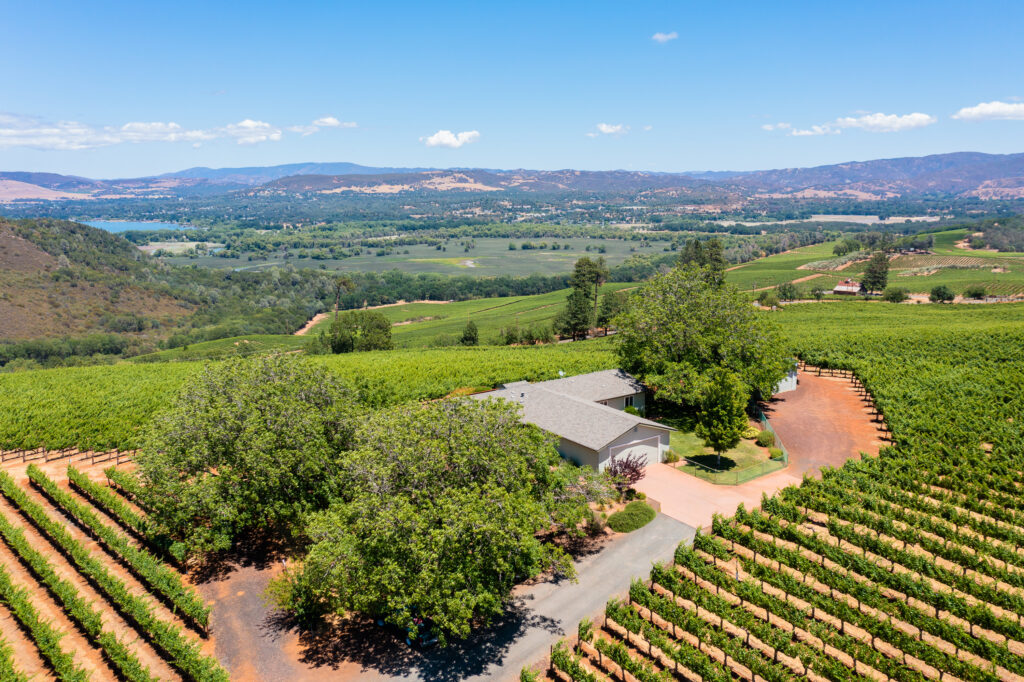 This winery estate is home to the Gregory Graham legacy founded in the year 2000 on 35+/- acre of prized Red Hills AVA vineyard ground. This site is highly desirable for its crimson red, rock and well drained volcanic soils. The terroir is further enhanced by elevation at 1800′ perch above sea level, hot days and cool nights. The nearby Clear Lake provides further nighttime cooling effect and a banana belt effect during the winter and spring seasons.
The winery was constructed in 2006 and features 3,600SF of enclosed production space, 1,846SF metal canopy crush pad and 1,065SF concrete slab apron extending beyond the roof area. Inside the winery also houses the tasting room, barrel room, case storage and fermentation space. The offering includes the winemaking equipment which has been operating historically at about 5,000 cases/annually. There is expansion potential to the permitted 15,000 cases annual production allowed by the County of Lake.
There are currently 26+/- planted acres of hillside estate vineyards with about half being Cabernet Sauvignon. The balance of the varieties are Zinfandel, Grenache Syrah and Petite Sirah. Unlike many other wine growing regions, Lake County has no fog in the summer so the grapes receive sun all day. The dry climate, agricultural diversity, and open space in Lake County result in lower pest pressure. Sustainable farming practices presently utilized could easily transition to certified organic.
There are two residences on the property, one occupied by the owner/winemaker and the other used as a short term rental. Both homes on the property have stunning 270 degree views of the vineyards, mountains, and Clear Lake off in the distance.
This site is being offered as a turn key winery estate (wine brands and inventory subject to separate negotiation). Certain sites are so highly sought after they will always be in favor, this property surely makes that list.
Presented at $3,250,000